Antioxidant 1010 (AO 1010)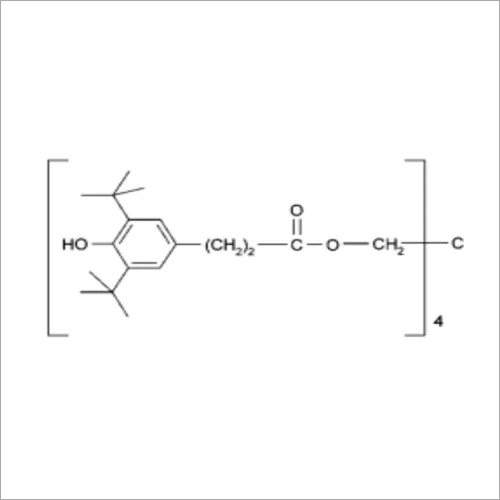 Antioxidant 1010 (AO 1010)
Price And Quantity
Product Specifications
The concentration levels of PUREstab 1010 recommended: - In hot melt adhesives, is ranging from 0.2% to 1.0%. - In synthetic tackifier resins, is ranging from 0.1% and 0.5%.

Powder
Room Temperature

6683-19-8
Pentaerythritol tetrakis(3-(3,5-di-tert-butyl-4-hydroxyphenyl) propionate)

1177.6 g/mol
Product Description
Antioxidant 1010 (AO 1010) is a high molecular weight hindered phenolic primary antioxidant. It is a highly effective, non-discoloring stabilizer for organic substrate such as plastics, elastomers, synthetics fibres, adhesive and sealant, wax, oil and fats. It protects these substrate against thermo-oxidative degradation.
Features & Benefits:
Antioxidant 1010 (AO 1010) has good compatibility, high resistance to extraction and low volatility.
It is odorless and tasteless.
The product can be used in combination with other additives such as co-stabilizers, e.g. thioethers (long term heat stabilizers), phosphites (secondary antioxidant), light stabilizers and other functional stabilizers.
It is of particular interest to mention the enhanced effectiveness obtained by combining Antioxidant 1010 (AO 1010) with Antioxidant 168 (AO 168).
Applications:
Antioxidant 1010 (AO 1010) is an efficient stabilizer for polyolefins, such as polyethylene, polypropylene, polybutene and olefin copolymers, such as EVA copolymers.
Its use is also recommended for processing of polymers, such as polyacetals, polyamides and polyurethanes, polyesters, PVC, styrene homo- and copolymers, ABS, elastomers such as butyl rubber (IIR), SBS, SEBS, EPM and EPDM as well as other synthetic rubbers, adhesives, natural and synthetic tackifier resins.
Handling & Safety: In accordance with good industrial practice, handle with care and avoid unnecessary personal contact. Avoid continuous or repetitive breathing of dust. Use only with adequate ventilation. Avoid dust formation and ignition sources. For more detailed information please refer to the material safety data sheet.
Storage: This product may be stored in a sealed container. Containers should be kept tightly closed when not in use and stored in a cool, dry place.
Trade Information
Yes

Within a certain price range free samples are available
25 Kgs Bag/Box.

All India